Facilities include an indoor heated swimming pool, tennis court, children's play area and a woodland walk with picnic table. We have two horses, two goats, two rabbits, two greyhounds and our own hens.
There are many places to visit in the area 45 minutes to York, 45 minutes to the sea in Scarborough, 10 minutes to Flamingoland, 10 minutes to the steam railway at Pickering, and 5 minutes to the North Yorkshire Moors.
All the cottages are environmentally friendly.

Little Edstone is a beautiful location in North Yorkshire with easy access to the coast and the North Yorkshire Moors.
About the farm

We produce a wide variety of fruit and vegetables as available in season. We have raised beds, a polytunnel and a greenhouse. Strawberries, raspberries, courgettes, potatoes, spinach, lettuce, tomatoes, etc. We no longer have Soil Association certification as we are small scale but we still stick to organic standards as it is something we strongly believe in. No chemicals, no nasties, just nature.
The farm produces eggs from rescued battery hens, who are now free range and fed on organic feed. All produce is available to guests, picked to order and delivered fresh to your door.
About Renewable Energy
The development of renewable energy has become something of a passion at Little Edstone. We hope visitors will be interested in taking a holiday in a place where the environment, general conservation and wildlife preservation are a priority.
We believe very strongly in trying to help save the earth's precious resources. To this end we already have a variety of renewable energy systems in place.
Heating

The whole site is heated by a biomass boiler using woodchip sourced locally from waste wood or wood pellets from sustainable forests. We also grow willow for coppicing and chipping and logs are cut on site from waste wood and from coppicing in the woodland.
A wood burning boiler powers the whole site,: heating and water for the cottages, heating for the pool. We produce our own logs and kindling from the small woodland on site.
A large bank of solar panels on our barn roof produces electricity and feeds into the national grid.
We believe our land should support wildlife as much as possible. The woodland is full of rabbits, passing deer, etc., and abundant birdlife, including owls. Long grass areas and beetle banks around fields support all the little creatures that scurry and scamper.
Nothing is hunted. A wildlife oasis.
Our Animals

We strongly believe in supporting the various animal welfare charities, in our case hen rescue, greyhound rescue, RSPCA rabbits. Check out Tia Greyhound rescue in Doncaster, they do an amazing job.
The Horses

Our horses are called Wotsit and Kizzy. Wotsit is a bay mare around 20 years old; she has been with us since she was 7. Kizzy is a rescue pony; she is only 4 years old. She was found abandoned late 2014. The two of them get on very well. Guests can visit them easily as the stable backs on to the cottage courtyard.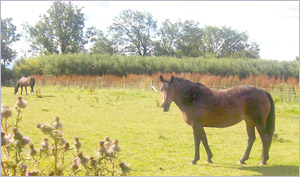 The Goats

There are two white goats, Tallulah and Frostie. They are both very friendly and love all the attention they can get. They spend the summer in a paddock that runs behind the cottages – therefore guests have goats at the bottom of the garden. In winter guests can visit the goats in the barn.
The Greyhounds

We have two greyhounds – both retired ex-racers. There is a black girl called Penny Black and a brindle boy called Scooby Doo. They are both very friendly, although Scooby can be a bit shy.
We like to support the Retired Greyhound Trust and Tia Greyhounds in Doncaster. If you ever consider getting a rescue dog please consider greyhounds as there are so many in need of homes. They are real couch potatoes who do not need a lot of exercise.

The Retired Greyhound Trust are excellent at recommending the right dog for the right person; they take a lot of care over rehoming. Greyhounds make lovely pets and they are really nice to live with. Please visit their website at www.retiredgreyhounds.co.uk.
The Rabbits

A fluffy girl called Dusty and black and white boy called Archie. They both came from the RSPCA.
The Chickens

We have a few left from a large commercial organic flock we used to keep. The rest have come from the hen rescue. Ex-battery hens who now have a lovely outdoor life and have laid fantastically well since they came (even though we wouldn't have required it of them). They can rest their feathers (now that they have grown back).

See also:
Little Edstone Cottages - about the cottages and how to book.
The Area - places to visit and things to do during your stay.